Ava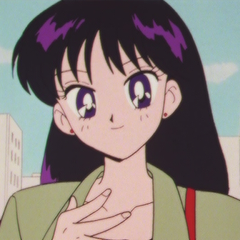 Minor
(-18)
Pronouns:
Any
Birthday:
April 3 (♈︎)
MBTI, Ennegram:
INTP 5w4
Alignment:
Chaotic Neutral
Socials: FANDOM on Wikia, DeviantART, YouTube, Pinterest
Ava is (regretably) most active on FANDOM and Pinterest.
She is autistic (verbal, always educationally diagnosed, medically diagnosed as a teen), has severe anxiety (mostly social anxiety), depression (possibly), and has drier eyes than others.
It likes many things, including 80s and 90s culture, cartoon action movies, flowers, moe, idol, and maho shojo anime.
He is not a fan of bugs, particularly moths, as well as realistic military movies or live-action romcoms.
They are neutral over harem anime and Wattpad.
She has a guilty pleasure for jumpscare horror.
Ava's favorite character is Egon Spengler from Ghostbusters. They always had an interest in boy characters.
Her favorite idol characters are Kanan Matsuura, Shizuku Osaka, Sumire Heanna, An Shiraishi, Ena Shinonome, Mizuki Akiyama, Marika Mizushima, Shinobu Inuyose, Muni Ohnaruto, Touko Kirigaya, Chisato Shirasagi, and Tomoe Udagawa.
His current Pretty Cure are Setsuna Higashi, Kanade Minamino, Alice Yotsuba, Haruka Haruno, and Elena Amamiya, with his favorite Delicious Party Cure being Kokone Fuwa.
Other favorite anime characters include Rei Hino/Sailor Mars, Ami Mizuno/Sailor Mercury, Homura Akemi, Mami Tomoe, and Hitagi Senjougahara.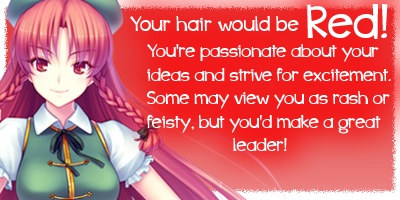 What Anime Hair Color Best Suits Your Personality?
Hosted By theOtaku.com:
Anime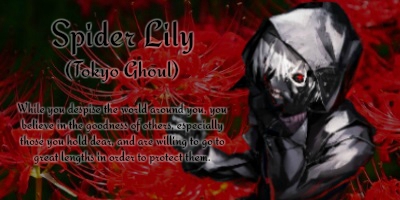 What Anime Flower Symbol Are You?
Hosted By theOtaku.com:
Anime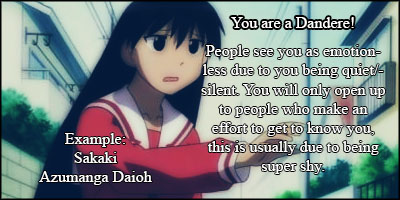 What Dere Type Are You?
Hosted By theOtaku.com:
Anime